Stone Soup Saturday Meal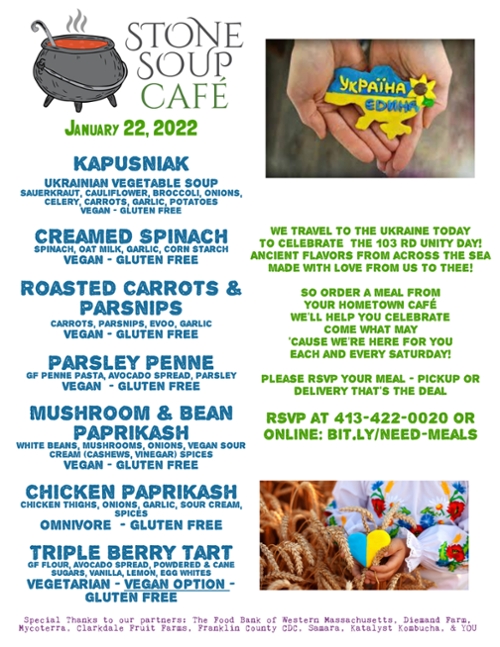 Saturday, January 22, 2022, 12:00 pm until 1:30 pm
Repeats until Saturday, October 1, 2022, 12:00 pm until 1:30 pm
399 Main Street, Greenfield, MA - Red Door on Hope Street
Celebrate Ukraine Unity Day!
We travel to Ukraine today
To celebrate the 103rd Unity Day!
Ancient flavors from across the sea
Made with love from us to thee!
Ukrainian Unity Day (Den Sobornosti) is an important historical event in Ukraine, which marks the anniversary of the unification of eastern and western Ukraine in 1919. It is celebrated on January 22 every year. Congratulations to all Ukrainians on the Unity Day!
And as always, RSVP for this delicious Saturday lunch HERE!
RSVPs for delivery close Friday at 5 PM, but walk-up orders are ALWAYS welcome!
REMINDER: you don't need to RSVP for a meal if you already have a reoccurring order.
---> Pay-What-You-Can for your meal here!
---> Pay-For-A-Neighbor's meal here!
---> Volunteer to cook, serve, or deliver the meal here!
With Love,
Chef Kirsten & the Stone Soup Café crew
Menu coming soon...! Every Wednesday afternoon.
Posted to: Saturday Menu.